Oil Changes at Hoffman Audi of New London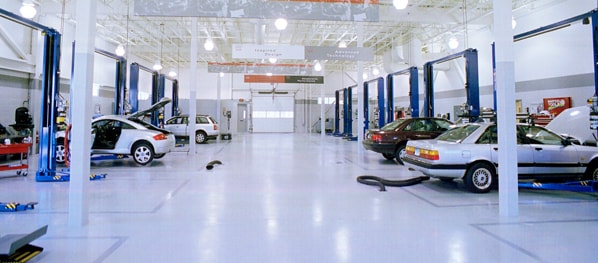 We know that it takes a village to raise a child, but the same can be said for keeping your new Audi model running in the best condition. The good news is that your village is right here at our dealership, ready to sell you your perfect vehicle, find financing, and maintain it through the years for optimum performance. Think of our service team as your family doctor and oil changes are your yearly physical. Your engine oil acts as a cooling agent and lubricant, giving your vehicle a reduced risk for overheating or suffering at the hands of wear and tear.
Our technicians are trained to work on your vehicle specifically, so we know to use only Audi Genuine Parts in your car for the best driving experience, plus these parts were custom made for your specific model. As you drive, your engine heats up and breaks down the oil, which also gets used up and if not flushed regularly, it could cause the engine to seize up. In addition to cooling your engine, oil also provides a seal between the pistons, rings, and cylinder walls so you get the most from your vehicle. Be sure to check the oil level frequently and don't skip oil changes because doing so may be inviting toxins and debris into your engine and could cause problems down the road.
If you have any questions about your vehicle or its recommended maintenance schedules, contact our staff in the service department to discuss your vehicle's individual needs. When it comes to providing New London, Groton, Westerly, Hartford, and Warwick customers with a safe haven for your vehicle's care, we have the tools and parts to provide you with the service you need. Contact us today to set up your appointment and let us help you prepare your vehicle for the changing seasons to ensure you get the most out of your car.
Get Directions Below.