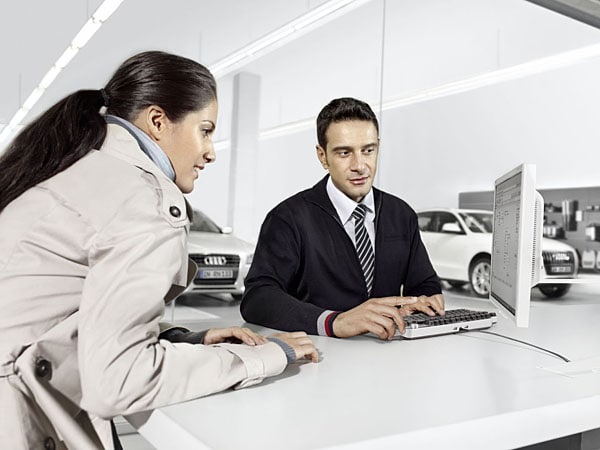 Hoffman Audi of New London: Affordable Financing for New London Area Drivers
For countless drivers seeking their next vehicle around the Groton, Westerly and Hartford areas, financing remains a daunting prospect. Merely selecting the ideal vehicle for your lifestyle, budget, and preferred specifications can become an arduous task due to the various models and trim levels available. At Hoffman Audi of New London, however, our team of sales and financing experts work together seamlessly to assist you in selecting your ideal vehicle, and offering a financing solution specially suited to your budget.
Loan or Lease? Financing to Fit Your Lifestyle
With a variety of financing options available, most notably loaning and leasing, drivers may find themselves confused by the differences. Quite simply, a loan awards drivers complete ownership over their selected vehicle at the end of a predetermined payment period of personalized monthly vehicle payments. Conversely, a lease does not offer complete ownership of a vehicle - however, leasing does provide drivers the ability to regularly upgrade their vehicle after a predetermined period. After completing the monthly payments within the lease period, drivers may opt to re-enroll in leasing their current vehicle, or turn it in for a newer model. While leasing does offer a variety of dealership amenities to further enhance your experience, leasing does include some inherent restrictions to vehicle modification and overall usage - a drawback not experienced after completing your loan payments.
Hoffman Audi of New London's Finance Center
Whether seeking the various conveniences and regular upgradability offered with a lease, or the complete freedom associated with a loan, Hoffman Audi of New London's team of financing experts within our finance center work tirelessly to provide drivers with a payment plan specifically suited to get drivers from Warwick to Westerly behind the wheel of their new Audi or used vehicle without detriment to their budget. Stop by Hoffman Audi of New London to speak with a member of our auto finance center or sales team to discover your ideal Audi model and affordable financing solutions. Or, give us a call to schedule a test drive of your selected model today!
More Helpful Financing Links…
We want financing to be as easy and transparent as possible, which is why we provide this robust suite of financing tools and resources:

Hoffman Audi of New London
Local Auto Finance Center Offering Audi Leases and Loans
Serving: New London, CT & Montville, CT
Local Phone: 888-379-4862
Directions to Hoffman Audi of New London
490 Broad St, New London, CT 06320