Genuine Audi Accessories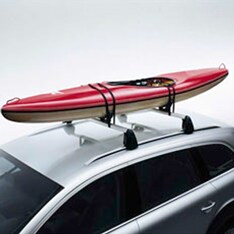 Whether you are interested in updating your wardrobe with beanies, tees, and purses, or want to infuse an element of style into your laptop bag and suitcase, there is an Audi Genuine Accessory available to fit every need. Aside from offering a variety of clothing, this collection also features larger items for your vehicle, such as roof rack, cargo box, or storage bags, and smaller ones to add a gentle touch of Audi to your vehicle, including license plate frames and valve stem covers. Regardless of the magnitude in which you wish to customize your life, there is an Audi product available for you.
Browse through these accessories and keep in mind the Audi enthusiast in your life as well, because they might also enjoy a golf bag, water bottle, or soccer scarf with the Audi logo on it. What better way to show your love of the brand than with official Audi merchandise that offers the same high quality as the Audi model lineup? There is something for all ages in our accessory center, so be sure to have a look around and when shopping for your specific model, you can even select it on the left side of the page to receive suggestions for that exact vehicle.
Once you have discovered the perfect fit for your life, you can request it from the comfort of your own home while sipping coffee or brushing your teeth, or just about anywhere else that the mood might strike. Feel free to contact us if you have any questions, and let our staff at Hoffman Audi of New London know what we can do to help you. With all of the great models and accessories available, we want our New London, Westerly, and Hartford customers to receive quality customer service and know that you are valued here at our dealership.
As you review the various accessory catalogs available on this page, please use the form below to make your accessory item(s) request.